MUDDY WATERS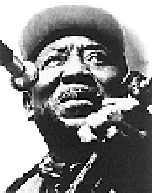 "Muddy Waters, another mule
is kicking in your stall."
-"Long Distance Call"
Born McKinley Morganfield in 1915 in Rolling Fork, Mississippi, Muddy Waters grew up in Clarksdale, Mississippi, a 100 miles North. He was orphaned at age 3, and he was given the nickname Muddy Waters at an early age due to the fact he loved to play in the muddy waters of a nearby creek. Waters learned to play the harmonica first, and it was not until after he formed his first band in 1932 that he began playing the guitar. He played locally with Henry Sims, Carley Patton, and Scott Bowhandle (who taught him how to play guitar). Water's style was a mixture of 3 influences, Robert Johnson, Son House, and his own. He never had the privilege to meet Johnson, but he did run across Son House in his travels. In 1940 he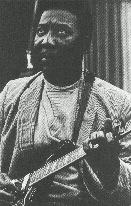 traveled to St. Louis and toured with a tent show for a year. In 1943 he made it to Chicago. The scene was still dominated by Big Maceo, Tampa Red, Sonny Boy Williamson and Big Bill Broonzy. Muddy received his first guitar from his uncle, for whom Muddy worked as a truck driver. 1947 marked the year that Big Bill Broonzy first introduced Muddy at Sylvio's, a club at West Lake, and Waters cut his first sides for Aristocrat (Chess Records original name), "I Can't Be Satisfied" and "I Feel Like Going Home." Success came literally overnight as Chess hand delivered copies of the single to 180 South Side outlets, five-and-dimes, beauty salons and barber shops as well as bona fide record shops. By nightfall the record was going for $1.60, almost twice its original price of $0.79. Muddy himself paid this price, as he did not have a chance to buy the single until nightfall.
Waters first made the R&B charts in 1951 with "Louisiana Blues." After the Chess brothers renamed the label in 1950 from Aristocrat Records to Chess Records, the first song Waters recorded was "Rolling Stone," which has given the name to a band who have undoubtedly sited artists on the Chess label as being early influences and has provided the title of one of pop cultures most important magazines. Waters' popularity was regional, outlined by a triangle connecting Chicago, St. Louis, and Memphis. Called the Headhunters,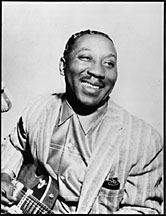 Muddy's band, would go from bar to bar and club to club across the South and West sides of Chicago challenging other bands to "cutting contests." This is where the two bands compete in a dueling banjos fashion. Waters loved to do this just to enrage other bands on the scene. Through two decades Waters made the charts with 12 songs. "Just Make Love To Me" climbed to #4 on the R&B charts in 1954. "Hoochie Coochie Man," Muddy's most celebrated song, spent four weeks on the charts, but never made it higher than #8. Other songs he recorded include, "Long Distance Call," "Got My Mojo Working" and "Rock Me." His popularity lasted throughout the '50s, as he was constantly playing clubs such as Smitty's Corner, a big, street level club on 35th and Indiana. Later in his career, Waters' band served as a proving grounds for future musicians as the band served almost as a graduate school for som of blues' greatest. His band produced the pianist Pinetop Perkins, drummers the likes of Francis Clay, guitarists of such talent as Earl Hooker, and finally such fine harmonica players as James Cotton and Junior Wells. Waters' influence extended even more, as his song "Rollin' Stone," inspired Bob Dylan's classic "Like A Rolling Stone," gave an English "blues" group their name and became the title of one of pop culture's most influential magazines. Within the Chess ranks, Waters had such tenure that "no matter how good a newcomer was, nobody was quite willing to say he was good until Muddy handed down his verdict" (Davis, 198)

Waters was fundamentally an in-person performer as his hard rhtyhm and blues did cross over onto wax etremelly well, though he appealed to the black audience. Don Snowden comments in I Am The Blues: The Willie Dixon Story that "Muddy Waters, Little Walker and other artists who would permanently put modern Chicago blues on the map were working largely to black audiences at hole-in-the-wall neighborhood joints. The division reflected a split in the structure of black entertainment at the time; deep down home blues were largely looked down upon as disreputable by the tastemakers within the black community." (pg. 59) Still as Francis Davis points out, the words of Muddy Waters delivered home truths, "over the slap of drums," and were "shibboleths about black bones and mules kicking in their stalls. Even the singers accents sounded Southern as though they and their listeners were still living there." (p. 181) Blacks had been migrating North to Chicago before the war, leaving their homes behind. Waters may not have been a huge comercial success, but along with chickens being raised in backyard pens and hand lettered signs on local grocery stores, he managed to create a "home-away-from-home" in Chicago. For this he will always be remembered.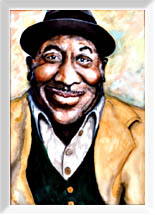 ---
Listen to this Mannish Boy!
The Hoochie Coochie Man at it again!
---
Go Back Home
---
Page Composed by: Ben Stewart - Spring 1998
e-mail: ben_d_stewart@hotmail.com