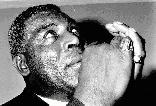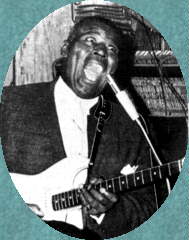 HOWLIN' WOLF
"Oh smokestack lightin'
Shinnin' just like gold,
Why don't you hear me crying?"
-"Smokestack Lightin'"
Named after the twenty-first president, Chester Arthur Burnett was born in 1910 near West Point, Mississippi. He grew up on a cotton plantation, working as a farmer. As a youngster he admired Robert Johnson and even was able to meet the man one day. It was Charles Patton, though, who turned him onto the blues. Patton lived on Dockery's plantation where Burnett and his family moved in 1923. As he became more and more interested in the blues his preferences shifted toward the Mississippi Sheiks, Memphis Slim and his brother. His first guitar was purchased for him by his father when he was only 18 years old. Learning the rudiments of the guitar from Charles Patton between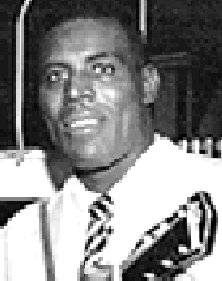 farm chores, Burnett began playing plantations in Mississippi and Arkansas. His repetoire consisted of Patton's blues songs with titles such as "Spoonful," "Baity Rooster," and "Sittin' On Top Of The World." Burnett picked up the harmonica when his sister was dating the second Sonny Boy Williamson, as the great served as his mentor. Burnett's most unusual influence was Jimmie Rodgers, a white blues yodeler. Chester attempted to emulate the "tubercular trainman" so much so that he developed a "wolf like growl." Known for a time as Bull Cow, Burnett finally settled on the nickname "Howln' Wolf." This was inspired by a story he heard from his grandfather about Mississippi's marauding wolfpacks.
In 1933 he went to Memphis, later joining the army from which he was discharged in 1945. Afterwards he returned to farm work and in 1947 he moved again, this time to West Memphis, Arkansas. There he bought his first electric guitar and in 1948 he formed his first band with Little Junior Parker and James Cotton on "harps." Wolf was discovered by Leonard Chess on one of Chess' ventures into the heart of the Mississippi Delta in search of fresh new talent. Chess recorded two sides with Wolf, "Saddle My Pony" and "Worried All The Time," both of which featured Ike Turner on piano and James Cotton on harmonica. The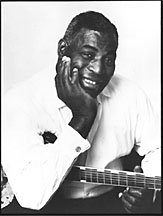 success of his first Chess release "Moanin' at Midnight" b/w "How Many More Tears" prompted Leonard Chess to bring Wolf to Chicago in 1952. He began playing a club on thriteenth and Ashland following Muddy Waters' act. His second chart maker was "Smoke Stack Lightin'" in 1956. While at Chess Records, Wolf teamed up many times with Willie Dixon, as Dixon played bass on many of Wolf's sides and even wrote some of Wolf's more popular tunes. Wolf recorded such Dixon classics as "Wang Dang Doodle," "Little Red Rooster," and "Backdoor Man."
He has been called one of the "raunchiest and funkiest" of the delta bluesmen in the Chicago group of R&B men. His blues was simple and straightforward, exemplified by his harmonica style. Wolf's favorite device was to set up a short, rhythmic phrase, an ostinato, such as in "Smoke Stack Lightin'" and "No Place To Go" and ride the tune out with this one phrase, jamming all the way through. In succeeding in being both primitive and modern, his influence over Chicago blus is still felt today. Praised by such groups as the Rolling Stones, who insisted on an appearance by Wolf on their debut on the BBC, Howlin' Wolf was one of the greatest blues musicians of his time. Hey there!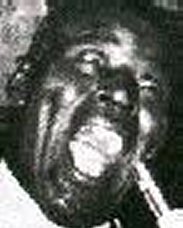 ---
Howln' Wolf's Smoke Stack Lightin'!
Listen to The Wolf howl!
Hear Wolf's Weak Brain Narrow Mind!
---
Go Back Home
---
Page Composed by: Ben Stewart - Spring 1998
e-mail:
ben_d_stewart@hotmail.com